Magic Automotive Repair Creeper Pad
Grab your Discounted Magic Creeper - Automotive Rolling Pad
while the store
LAUNCH DISCOUNT
is on.
This is absolutely a great gift!
ORDER NOW because these Magic Creeper Pads are FLYING off shelves! Limit to 5 per customer max!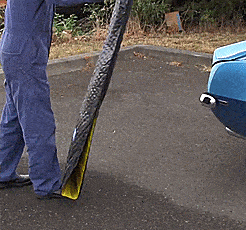 If you'd like to creep around on the floor with a magical pad, the Magic Creeper is for you! In all seriousness, the Magic Creeper is a unique rolling floor pad that lets you easily move around while working under cars, and on the ground. It's a pad that loops all the way around in a circle, so it easily slides up and down to move further under you car, and easily get back out.
No longer will you need to use wheeled ground creepers that leave marks, need fixing every so often, and are so bulky that they can't fit in your car when you need it the most. The Magic Creeper is super simple, and rolls up, so it's extremely easy to throw in your car when you need it on the road.
Product Features:
With a stunning zero ground clearance, this wheel-less creeper takes the stress out of working in tight, low clearance, and hard to reach places
Unique tubular shape acts like a track moving along effortlessly for up to 5 feet without the need to reposition
Inner layer acts like millions of tiny ball bearings for effortless maneuvering in all directions; even on rough and uneven surfaces
Water, oil and puncture resistant; won't scratch wood and expensive floor finishes
60 inches x 28 inches magic creeper rolls up to a mere 29 inches x 5 inches, and weighs in at just over 3 pounds; making it easy to store in your trunk, under the car seat, in the RV or anywhere else you may need it
THIS PRODUCT IS A LIMITED PRODUCTION, AND IS NOT AVAILABLE IN STORES. WILL SELL OUT FAST!
Click ADD TO CART to Order Yours Now!
Toronto Marketshop Guarantee
Toronto Marketshop is out searching for some of the most interesting products in the entire world and it's backed up by the 30-day risk-free guarantee. If you're not satisfied enough, we'll make sure you are 100% satisfied by making things right.
If YOU are happy, then the Toronto Marketshop will also be happy. There are absolutely no risks at all purchasing from Toronto Marketshop official store. So if any assistance is needed, don't hesitate to send us an email: support@torontomarketshop.com
-----------------
Click the "Add To Cart" Button Above To Order Now!
Limited Quantity Available - Will Sell Out Fast!